Samsung SSD 840 Evo features the latest effort of the company in the SSD industry replacing its widely popular mainstream SSD 840. With upgrades to NAND, a new controller and firmware, the 840 EVO features the latest technology, while providing class leading responsiveness under everyday workloads, enhancing boot-up, application loading, and multi-tasking performance. Its 98K IOPS powers performance that is up to 10X faster than a regular HDD. And, Samsung's TurboWrite technology delivers dramatically faster sequential write performance. This 840 EVO has a storage capacity of 1 TB and comes with software for easy installation.
We have selected Samsung SSD 840 Evo to be one of the best mainstream SSDs available out there which will suite most computer users and take them to satisfaction.
What Did IT Professionals Say?
 
[icon name=icon-star] Anandtech (July 25, 2013):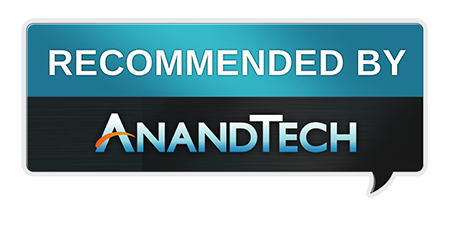 To say that I really like the EVO is an understatement. If Samsung can keep quantities of the 840 EVO flowing, and keep prices at or below its MSRP, it'll be a real winner and probably my pick for best mainstream SSD.
---
[icon name=icon-star] Tom's Hardware
(July 25, 2013):
Because we're enthusiasts and enjoy the fastest of pretty much everything, we already know that Samsung's 840 EVO isn't all things to all people. However, it's a product able to satisfy most people, armed with features that they'll both want and use. And Samsung plans to ask a price that millions of customers have already paid for vanilla 840s. With the addition of 750 GB and 1 TB models, the company's mainstream SSD family is pretty darned complete. Left with little else to ask for from an SSD, we're pleased to confer the Tom's Hardware Smart Buy award on Samsung's 840 EVO.
---
[icon name=icon-star] Legit Reviews (August 29, 2013):
The package of performance, migration and Magician toolbox, and installation accessories make this a very attractive buy. So much so that we're awarding the Samsung 840 EVO drive with out Editors' Choice Award.
Legit Bottom Line: If you haven't considered a Samsung SSD before now, it's time. Each iteration of drive they release gets better and at this point with the 840 EVO, Samsung has jumped from SSD newb to hero in no time at all.
---
[icon name=icon-star] Tweak Town
(July 25, 2013):
Sitting between the 840 and the 840 PRO on paper, I think the 840 EVO is a superior product to both as long as the P/E cycles hold up. At the conference in Korea, Samsung stated they are achieving higher than 2,500 P/E cycles with this flash, but their testing is ongoing. I wouldn't download my Usenet content to the drive, but for an OS / programs drive, I wouldn't be worried too much.
---
[icon name=icon-star] Bit-Tech (July 25, 2013):
There's little to fault with the new Samsung SSD 840 Evo range of SSDs. They're good value in terms of cost per gigabyte, they're fast and they look pretty smart too. Add in the potentially rip-roaring performance provided by Rapid Mode and there's little more one could ask for.
Performance of the 120GB drive is markedly down on the rest of the range but it still far outstrips most competing drives in its price range. Meanwhile the larger drives compete strongly with most other standard SATA SSDs. We'd probably suggest spending £400+ on either the 750GB or 1TB models is unnecessarily extravagant when HDD prices are still so much lower but at least it's not the case that you're paying a premium for the extra capacity.
The most extreme users will certainly still want to opt for the Samsung SSD 840 Pro (or equivalent) thanks to its higher reliability, longer five year warranty and of course faster consistent performance but for the rest of us we have a new SSD leader, whatever your size/price requirements. For this reason we've given the whole range the same score – they all offer the same set of features, have class-leading performance and offer great value for their capacity.
---
There are many other more testimonials of IT professionals that praised this drive for its consistent performance, high speed and the new features that have not been seen in any other SSD yet. I think 5 of the most prominent experts' reviews are sufficient for anyone who wants to build a quick overview on this drive and its functionality.