Game consoles like PS4 generate a great deal of heat, and they have components to mitigate that heat called heatsinks. A heatsink is a passive heat exchange component. It takes the heat generated by PS4 CPU and uses an air or liquid coolant to dissipate the heat. All that in order to regulate the heat from the PS4 processor. This is important, on a simple level, to avoid PS4 overheating in the most efficient way possible. Part of this whole cooling equation is PS4 thermal paste.
Thermal paste is an often overlooked part of most PS4 repair process. "It's just thermal paste, as long as it stays on it doesn't matter," says far too many when selecting their thermal paste.
In fact, getting the right thermal paste replacement for PS4 and properly applying it can significantly improve the temperature and therefore the performance of PS4 CPU. Just as the wrong type of paste and a bad appliance method can actually worsen the performance.
What is a Thermal Paste?
We've known that PS4 thermal paste works by transferring the heat from the PS4 CPU to the heatsink. But how exactly does this process work?
Thermal paste is a thermally conductive substance, usually sold in fluid form. It is applied between the PS4 CPU and its cooling system. That cooling system consists of a heatsink and an air fan over it. Thermal paste application ensures there's no gap between the PS4 processor and its cooling system, which helps to dissipate heat through their connection.
PS4 heatsink basically takes the excess energy from the processor and dissipates it out and away from the unit. From here the heat is picked up by a fan, swept away, and the PS4 system maintains a healthy temperature.
Simple enough, right?
But the importance of thermal paste can't be stressed enough! Since the grooves between the Ps4 processor and its heatsink aren't perfectly even, thermal paste acts as a conduit for better heat transfer. It absorbs all the energy and makes sure it only flows into the heatsink, not any of your PS4's critical circuitry.
So, think about it. If the PS4 CPU is running at a breakneck pace, you need to be sure that all of the heat is moving away from your internals. It's crucial to the safety, stability, and performance of the whole system!
Do You Really Need to Replace PS4 Thermal Paste?
When users get a blue screen message while playing stating that PS4 is overheating, the thermal paste is one of the accused ones. That's because of its major responsibility to properly dissipate heat generated by the CPU. If it fails, the CPU starts to get hotter. But, the thermal paste replacement should be the LAST RESORT when considering to cool down PS4 temperature.
Why So?
In fact, replacing the PS4 thermal paste is a sensitive process that needs accuracy, care and concentration. If you don't apply the thermal paste correctly on the PS4 CPU, you'll cause more damage to the system.
Additionally, in most cases, the PS4 thermal paste has not to do with the heating problems you're facing. Most probably it's the dust that block the air outlets inside PS4 box, or that accumulated on the cooling fan blades to the extent that it prevents it from running smoothly, and thus, cooling down the CPU temperature. Simply, the #1 culprit of this situation is DUST. Once you make sure that your PS4 components are all clean of dust, here only you accuse the thermal paste.
What Will You Gain?
If the PS4 thermal paste is not defective, yet you decide to replace it with a better and more efficient brand, how much can this cool down the PS4 CPU?
Well, in fact, using the best thermal paste on PS4 won't make the CPU more than 5 degrees cooler. Do you think it is worth it? It's up to you. Most experts don't see it worth the efforts and time spent on replacing the PS4 thermal paste.
So, unless you have some exceptional needs, or you tried every cleaning options and nothing worked, we don't advise you to go through this route.
How much thermal paste to use on PS4
When gaming on PS4, the CPU is the component that will require thermal paste. That said, there are many different ways to apply it. Your goal when applying thermal paste is to get a paper-thin layer of it over the PS4 CPU. For this, use just a dot of the paste on each side of PS4 CPU.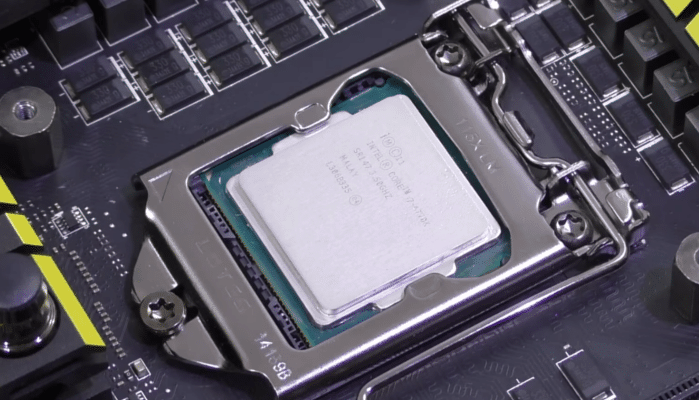 Thermal Paste Properties
When looking at thermal paste used for PS4, there may be a few categories you're unfamiliar with, or that you're not sure how it plays into the picture as a whole. Let's take a look at what those are and how they fit into the puzzle.
Viscosity
This refers to how thick/thin the thermal paste is. Those with a higher viscosity are thicker, and more like actual paste, and usually will adhere the heatsink better to the PS4 processor.
Those with a low viscosity are more liquidy and will tend to dry up over a few days after applied to set in.
Specific gravity
Specific gravity is how dense and heavy the thermal paste is, and generally isn't listed on most thermal pastes suggested for PS4, and isn't usually needed to take into consideration.
Just note that to enhance the application process easier you must choose the thermal paste with an adequate amount of density. That's to make sure it can squeeze easily throughout the PS4 CPU. The liquid thermal paste has less density than the normal thermal paste. It must also have an even consistency for applying the paste directly to the CPU. It should be a carbon-based compound and must be free from electrical conductivity so that it may be easy for you to apply without any short circuits.
Thermal Conductivity
This is the most important measurement to pay attention to when considering replacing the PS4 thermal paste. This unit of measurement tells you how good the thermal paste is at transmitting heat from one place to another.
When you plan to buy a thermal paste for PS4, make sure that it has a good thermal conductivity. Thermal greases play an important role in managing the temperature of a microprocessor in the PS4 or other electronic devices. They must provide a high versatility and reliability to keep the PS4 system cool and safe.
Every thermal paste has a good thermal conductivity rating. In fact, it is nothing but to transfer the heat from the PS4 processors to the heatsink. If the thermal conductivity is more than the temperature, it will be reduced more.
There are different units for liquid and non-metallic compounds, actually, the non-metallic compounds will have the conductivity between 4-10W/mK and the liquid thermal paste can have the thermal conductivity of up to 70W/mK.
Electrical Conductivity
When you are ready to apply a thermal paste to the PS4 processor, you must be careful because it can affect or harm you by short circuits. You must choose a paste with low electrical conductivity. That way you can use it without any shorts even if it touches the electrical components.
Ambient Temperature
The air around the PS4 can play a huge part in determining how cool (or hot) it runs. If you live in an area where the temperature is constantly hot, you might want to first try to move PS4 to a cooler room. If that's not possible or didn't resolve your issue, consider improving the PS4 cooling system by upgrading the thermal paste.
The air inside of the PS4—right around the processor— can affect the results as well. If the other components run hot (say like your GPU), that ambient air can affect the system as much as the temperature outside can.
You can measure the temperature easily using a thermometer.
Level of Familiarity
How comfortable you are with working on PS4 components? This can be a factor into what thermal paste solution you want for PS4.
If you're a novice and worried about the possibility of harming PS4 components, consider thermal pads instead. While not as effective as a paste, it's very quick and easy and won't harm the PS4 components.
Whether or not it's electrically conductive is something else you should think about. That's because some thermal pastes are made with materials that conduct electricity.
There are also liquid metal thermal pastes, and these require special care to apply without harming PS4 components.
How Much Thermal Paste to Apply to PS4 CPU
There are many different methods to apply the thermal paste to PS4 CPU. Though most of them will give nearly equal results, you should make sure not to put too much or too little paste. Overall, the most popular method is the 'pea' or 'dot' method. There you simply pour the thermal paste onto the middle of the PS4 CPU surface.
The paste will then evenly spread as you pressure the heatsink on it. The rest is up to the PS4 cooling fan and how well the airflow is managed in the PS4 case.
Alternatively, another good way to apply the thermal paste to the PS4 CPU is in the form of a line, vertically across the surface. Some people put the paste in the form of an 'X' or a spiral which is somewhat excessive as you'll be using more paste than it's needed. Either way, as long as you don't put way too much or too little, you're good to go.
Certain thermal pastes also come with a specific tool such as a brush which you can use to evenly spread the paste. Unless you're dealing with a liquid metal paste, spreading the compound isn't really necessary.
Best PS4 Thermal Paste Replacements
If you've reached the point that you really need to replace the original PS4 thermal paste, here you go. You can choose one of the best and most efficient thermal pastes below to apply to the PS4 CPU.
So, below are our recommended thermal paste replacements for PS4. They work for the PS4 standard and PS4 Pro as well.
Noctua NT-H1 | This powerful thermal paste keeps PS4's CPU down to two degrees cooler. The application process is remarkably easy with no settling time required. It's also a very cheap alternative. Note that Noctua's offering actually includes less of the paste itself (which is how the company keeps the price down).
Thermal Grizzly Kryonaut | The Thermal Grizzly Kryonaut is a very expensive paste to use for PS4. For this reason, although it is the best performing paste, its price is a big disadvantage and keeps it backward. This paste has no conductive power, which is very ideal for thermal pastes. It also has no settling time requirement, meaning it's easy to apply to your PS4. It has three to four percent lower temperature cooling capabilities than the other top-rated pastes in the market.
Arctic MX-4 | This is one of the most popular thermal pastes on the market. It's cheap and easy to apply due to its practical syringe design. Moreover, it doesn't consist any metal so it's not electrically conductive. The moment you pour the paste on the PS4 CPU surface, you'll be able to place the cooler. That's because the paste doesn't require any settling time.
So, these are the three thermal pastes we recommend for PS4. In fact, just any good thermal paste will do the job perfectly, and you don't need to get confused about that at all.
Removing and Re-applying Thermal Paste on PS4
If you're wondering how to remove the old thermal paste from PS4 CPU surface, the answer is simple – 99% isopropyl alcohol. It's the single most effective tool for cleaning the bits off the PS4 processor and heatsink surface.
Simply but carefully pour some of it on the part you're cleaning (say PS4 CPU surface). Now let it do its magic for a few minutes, and then wipe it with a clean piece of cloth.
There isn't a specific time after which you should take the PS4 CPU cooler off, remove the old thermal paste, and apply the new. Truth is, even after a whole year or two, the performance will not decrease at all. In fact, simply cleaning out your PS4 is more beneficial than re-applying the thermal paste.
Liquid Metal vs. Conventional Thermal Paste
Liquid metal thermal pastes are known to be better performing pastes than the conventional ones. That's due to the high heat conductivity they boast. But the performance gap between the two is really small and unremarkable, especially if the top-notch conventional pastes are used in this comparison. What if you know also that liquid metal pastes come with serious disadvantages that should hold you back from considering one, that are:
Usually higher in price.
Hard to apply that needs good skills to do it correctly, and any mistake in application can be a disaster due to their high electrical conductivity that can cause electrical shocks within the micro circuits on the motherboard if applied incorrectly.
Not compatible with aluminum coolers, so you are stuck to copper or nickel.
Very difficult to clean/remove once dries out.
For all that we say that if you're going to pick a thermal paste for PS4, don't go for metal pastes. Classical/conventional pastes are the best ones to use for PS4.
Conclusion
If you're seeking to pick up some thermal paste for PS4, chances are you already know a bit about maintaining PS4. If you don't, be sure to read up on the types of components you're using so you can buy the very best kind of thermal paste for the job. Different pastes are used for different purposes, so don't, for instance, purchase the Arctic MX-4 if you're looking for just replacing the original PS4 thermal paste with the new one. Leave that job to the Noctua NT-H1. Using the wrong paste can lead to damage and overheating. That's why, make sure to avoid making the wrong choice when you add a thermal paste to your online shopping cart.