Samsung latest efforts in economy SSD segment is known as SSD 850 Evo, which proved solid performance and amazing endurance at a very appealing price for budget users who seek a compromise between quality and cost. The wonderful part here is that the performance of the new mSATA SSD version of 850 EVO serious is very similar to the SATA version of this drive which would eliminate the worries of some who might underestimate this kind of drives. That's because architecturally the mSATA model is not any different from their 2.5″ sibling. The heart of the drives is still Samsung's own MGX controller (excluding the 1TB model, which is powered by the older MEX controller) and the NAND is 32-layer 128Gbit TLC (3-bit per cell) V-NAND that is manufactured using 40nm lithography. TurboWrite (Samsung's pseudo-SLC caching) is also included and the cache sizes have remained unchanged from the 2.5″ model. DevSleep and TCG Opal 2.0 (eDrive) are both supported too and endurance comes in at a respectable 75TB for 120GB/250GB and 150TB for 500GB/1TB models.
As such, the mSATA version of Samsung's newest SSD line features the same 3D V-NAND technology, enabling it to boast twice the endurance of a conventional 2D planar type NAND flash, and is designed to maximize everyday computing with an obvious focus on performance and reliability. The mSATA model is built for small form factor computing, embedded applications, and provides users with upgrading capability for ultra-thin PCs and desktops using an mSATA slot.
The mSATA form factor has been out for a good bit now, and we are already seeing laptops with mSATA drives or slots, and desktop motherboards that include an mSATA slot. Alternatively, there are a number of adapters available that allow you to add an mSATA drive to your system via an empty PCIe slot (although such cards only use the slot as a means to anchor the card, and are not electrically connected to any PCIe lanes – the card has standard SATA power and data connections, and connects to one of your motherboard's SATA ports). Before they became available in larger capacities, we were seeing a number of smaller capacity versions being utilized as caching drives, utilizing caching software such as NVELO's Dataplex (NVELO is now owned by Samsung). We have picked this drive to be on our best mSATA SSD list for its great performance and specifications that you'll learn below.
Samsung SSD 850 EVO mSATA Features & Specifications:
Rather than talk about the SSD 850 Evo features all over again, we will stick to features of the mSATA version. For starters, the mSATA drives will be available in 120GB, 250GB, 500GB and 1TB models, the largest of which uses the Samsung MEX controller and 1GB of LPDDR2 DRAM cache memory.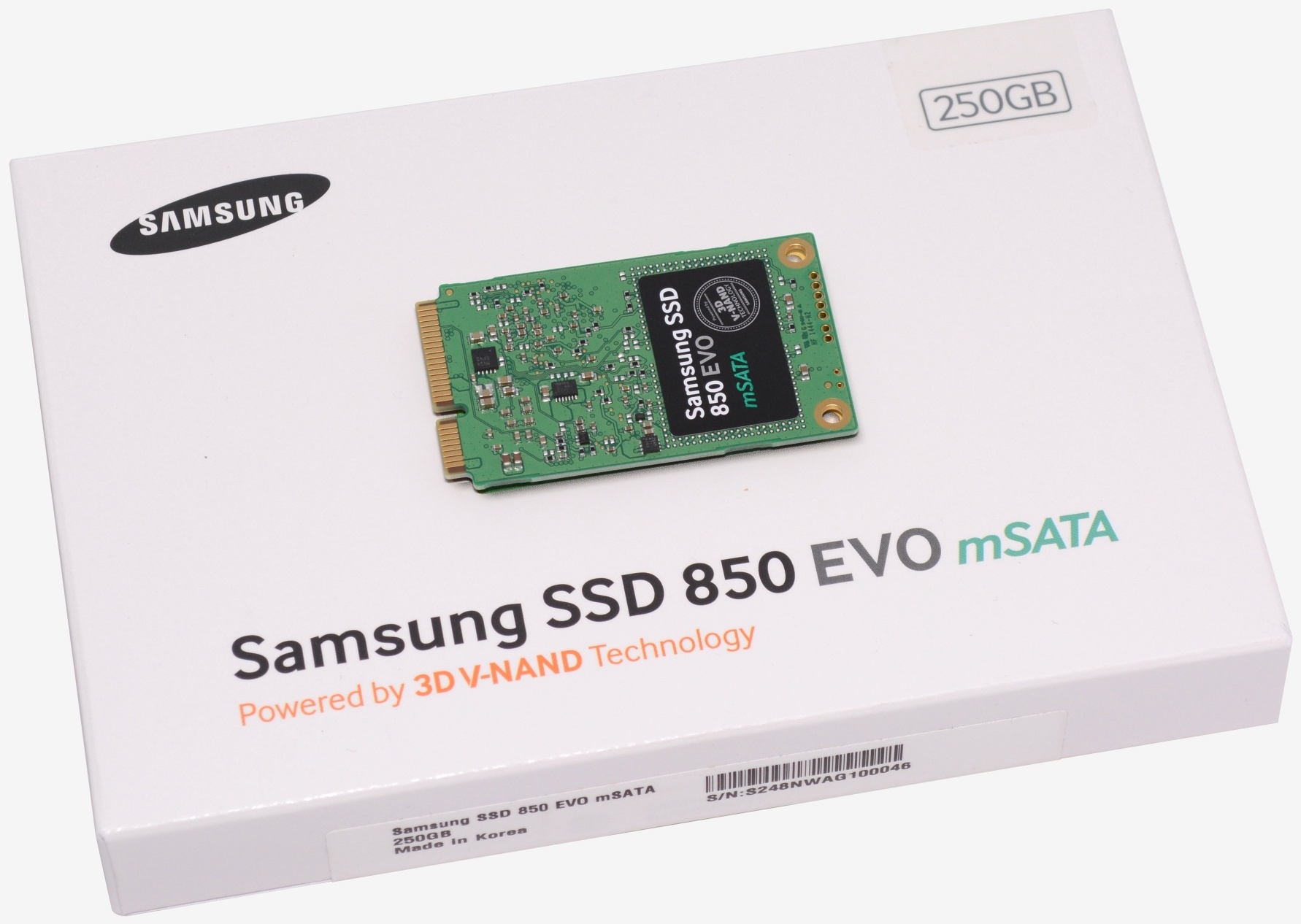 Meanwhile, the smaller 120GB/250GB and 500GB models use the Samsung MGX Controller and all have a 512MB LPDDR3 DRAM cache. All models have been given a maximum sequential read throughput of 540MB/s with a write speed of 520MB/s using the TurboWrite feature.
The Samsung 850 EVO mSATA SSD is much smaller and lighter than a 2.5 inch SSD and even smaller than a credit card. Like all mSATA devices, they do not have a casing, it is simply a small PCB with the mSATA pin connector, and as a result, all components are exposed. This coupled with the tiny dimensions means that even the heaviest version (1TB) weighs just 8.5 grams.
The 850 EVO comes with AES 256-bit Full Disk Encryption (FDE), TCG/Opal V2.0 compliance, and support for Encrypted Drive (IEEE1667), which can be easily activated with instructions from within Samsung's Magician software. DevSleep (device sleep) mode is also offered to enhance lowered power consumption. Samsung will be updating their Magician software to version 4.6 soon, in which Rapid Mode can be enabled for this SSD. Furthermore, TRIM is supported when there is OS support. These drives feature S.M.A.R.T. drive health and monitoring attributes and garbage collection, and are covered by a five year warranty. Among the value and mainstream-tiered SSDs a five year warranty is pretty nice compared to most that have only a three year warranty.
Samsung SSD 850 EVO mSATA Specifications
Capacities: 120GB, 250GB, 500GB, 1TB(1,000GB)
Dimensions (LxWxH): (29.85±0.15) x (50.80±0.15) x Max 3.85 (mm)
Interface: SATA 6Gb/s (compatible with SATA 3Gb/s and SATA 1.5Gb/s)
Form Factor: mSATA
Controller

120/250/500GB : Samsung MGX controller
1TB: Samsung MEX controller

NAND Flash Memory: Samsung 32 layer 3D V-NAND
DRAM Cache Memory: 512MB (120GB, 250GB, 500GB) LPDDR3 and 1GB (1TB) LPDDR2
Performance

Sequential Read: Max. 540 MB/s
Sequential Write: Max. 520 MB/s
4KB Random Read (QD1): Max. 10,000 IOPS
4KB Random Write (QD1): Max. 40,000 IOPS
4KB Random Read (QD32):

Max. 97,000 IOPS (250GB/500GB/1TB)
Max. 95,000 IOPS (120GB)

4KB Random Write (QD32): Max. 88,000 IOPS

Weight Max: 8.5g (1TB)
Power Consumption Active Read/Write (Average): Max. 3.5W (1TB)/ Max. 4.3W(1TB)
Idle: Max. 50mW, Device Sleep: 2Mw
Warranty: 5 Years
Performance
From a performance perspective, this little guy packs a form punch, which is highlighted by its solid showing in our smaller file consumer synthetic workloads. In a 4k random transfer test, the Samsung EVO mSATA posted 9,352.90 IOPS read activity and 28,478.72 IOPS write, the latter score being the top performer. The 850 EVO mSATA also had the top read activity in the 4k random trace among the tested drives, with the 120GB model posting an impressive 9,981.55 IOPS read. Its predecessor (840 EVO), however, outperformed both 850 capacities in the 2MB random and sequential benchmarks by a noticeable margin.
Since nearly all manufacturers utilize ATTO as their benchmark of choice for establishing their manufacturers' performance specifications, we were not the least bit surprised that the mSATA 850 EVO review samples bested those specs by a few percentage points. What surprised though was that these drives were able to hit 500MB/s reads (and correspondingly fast writes) at some point in virtually every benchmark thrown at them — even with AS SSD and Anvil, which are more rigorous than the other benchmarks. Even with Crystal Disk Mark set on "random" rather than "zero fill" (incompressible versus compressible data), reads and writes were right at the published sequential performance specs of 540MB/s reads and 520MB/s writes.
Ultimately there are very few options when it comes to unique form factors like mSATA. Samsung has largely done well with the 850 EVO though, making it a good choice in a market segment bereft of opportunity. Those with ultra-thin computers will be thrilled to have a modern mSATA SSD option and specialized devices that need embedded storage can now incorporate a 1TB drive that provides excellent large block sequential throughput without the expense associated with the enterprise counterparts. In total, the 850 EVO strengthens Samsung's grip on this market with good performance and much improved power consumption.