When SSD (Solid State Drive) technology emerged, it unleashed war on its grandfather HDD (Hard Disk Drive). Day after day, SSD manufacturers add on the new technology; revealing amazing features of the new technology. When they first appeared, SSDs were restricted to the most expensive desktops and laptops, which was a major disadvantage.
However, improvements have been constantly applied on SSDs' density and manufacturing capabilities. More data can thus be stored on each individual chip; bringing the cost down and allowing solid-state drives to get smaller in size without sacrificing capacity. SSDs have now become much more affordable than they were once born. Going for a solid state external hard drive for a portable storage solution seems to be an appealing idea to everyone whose main concern is file transfer speed between computers.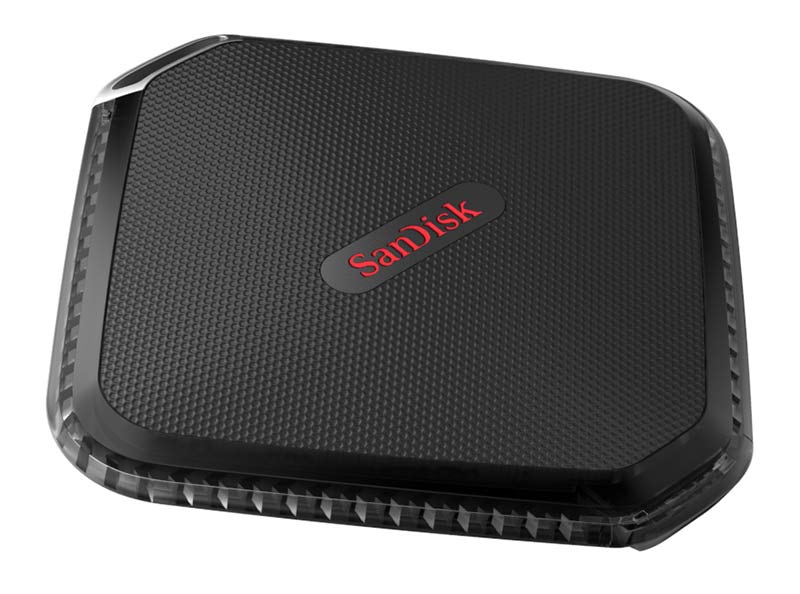 SSDs proved they can do more than just replacing HDDs. As seen with the Samsung SSD 950 PRO, via examining the M.2 factor, the underlying technology has proved to be very flexible. NAND flash has developed to the point where size, connectivity and cost are not limiting factors anymore. 3D stacking, which Samsung advertises prominently as V-NAND, exceptionally offers unprecedented storage density in each physical chip. SSDs – in 1TB or 2TB – can marvelously fit into packages barely larger than today's biggest USB pen drives.
Today, we're examining the SanDisk Extreme 500 Portable SSD and the Samsung Portable SSD T1. As the term 'portable' denotes, both are designed to be carried around. In the same time, they should offer speed, capacity and reliability of standard internal drives through utilizing the high-density flash and high-speed USB 3.0 connectivity that now allow for SSDs to be packaged as bite-sized, pocket-friendly, super-convenient external devices.
SSDs' NAND flash is of a different grade. Their controllers are much more competent as well. The different protocols utilized mean the operating system and hardware can communicate faster and more reliably even though they use the same physical connection. Benefits of SSDs are highly revealed in its durable regular and use and longer life.
Your own needs should determine where you steer. If all you want to do is occasionally transport files from one place to another, chances are a standard USB pen drive will serve the purpose just fine. However, if you opt for speed, long-term reliability and capacity, you can consider any of these two options.
Samsung Portable SSD T1
Do you remember the small MP3 players that used to be popular years ago? This is how the Samsung Portable SSD T1 somehow looks like. It takes the shape of a rectangle with curvy sides. Samsung's logo shines in the middle of the larger textured segment. The Micro-USB 3.0 port is in the centre of one side, with a tiny status LED next to it. The device is air light; weighing 32 g. Indeed, it looks like a premium, high-end accessory.
Samsung's drive comes with a flat and stiff USB 3.0 cable. Its length is approximately 12 cm – half of which is the length of the connectors on both ends. This is the main downside, as placement is a little difficult, given the stiffness of the cable. When there is enough space, this should make no problem. However, the cable will dangle awkwardly from a desktop tower's USB ports, especially vertical ones. While the weight of the drive is no issue, it still is not the best option. Alternatively, you can use any other USB 3.0 cable. USB 2.0 is your other option, but it shall make a speed drop that makes an SSD loses its prime potential.
Samsung T1 external SSD used to be our top selection in our best portable external SSD list until its successor arrived—Samsung T3.
Setup and use are a piece of cake. You only plug the drive, follow a few instructions and that is it. You can turn on 256-bit AES encryption if you'd like, and give it a name. Later on, if you think about changing your password or turning encryption on or off, you will need a setup utility from Samsung's website.
SanDisk Extreme 500 Portable SSD
The SanDisk Extreme 500 Portable SSD is a different approach from SanDisk. Although its square shape is a bit bigger than the Samsung T1 making it is difficult to go on a pocket, it is more durable and can withstand more abuse. The bottom of the drive has a rubber pad and it is encapsulated with a rubbery bumper around the edges. To clip or strap it, you can use the metal loop which lies in one corner. The Micro-USB 3.0 port lies in the other corner and is protected by a flap, which is a bonus.
The SanDisk Extreme 500 Portable SSD comes with a regular USB 3.0. While easy to use, this device is even less like a pen drive that you can just whip out. It looks and feels like a really small, light portable hard drive.
The Extreme 500 works just fine when plugged into a USB 3.0 port. You can enable 128-bit AES encryption, and all documentation comes in digital form on the drive itself.
Performance
We tested both, the Samsung T1 and the SanDisk Extreme 500 on the same test bench, which consisted of the following components:
The formatted capacity for the 250 GB Samsung T1 was 232.88 GB, while the 240 GB SanDisk Extreme 500 has 223.57 GB of usable space. Using SiSoft SANDRA's File System Bandwidth test, the Samsung T1 showed consistently higher scores, with 440 MBps sequential reads and 292.57 MBps sequential writes, compared to the SanDisk Extreme 500's scores of 387.35 MBps and 192.65 MBps respectively. The random read and write test also went to the side of the Samsun, with the T1 racking up 437.67 MBps and 285.79 MBps respectively whereas the Extreme 500 managed 323.65 MBps and 178.2 MBps respectively.
Running the two drives using CrystalDiskMark 5.0.3, which shows how SSDs perform when stressed with multiple simultaneous read and write requests on modern systems, both products proved to be much faster than portable hard drives. Such result was, of course, expected. Basic sequential and random read and write tests backed up SANDRA's findings consistently, but things got interesting when running the same tests with 32 simultaneous requests instead of one. The Samsung T1's sequential speeds increased slightly, but random speeds more than quadrupled. Although the usual is that random speeds are lower than the sequential, but these results show that the gulf can be reduced. The SanDisk Extreme 500 witnessed a drop in sequential speeds and rise in random speeds by negligible amounts.
This drive has picked second in our best USB 3.0 external SSD list for its lower performance than drives released by Samsung.
Verdict
It is clear that superior performance goes in the favor of the Samsung T1, in terms of data transfer speeds. While it is less expensive than the SanDisk, its body is not as durable. Samsung's long and rich history in manufacturing good desktop SSDs, where flash memory chips and controllers are built and designed in-house, gives its products their premium advantages and trust. On the other hand, the SanDisk's Extreme 500 serves outdoors photo/video files transportation or storage uses. Because benchmark test conditions might not really get reflected in customers' daily uses, they are less likely to see a difference between both devices.
With SSDs prices becoming more affordable, traditional hard drives are getting more and more secluded. This is such happy news for everyone who cares about carrying his information along and having the ability to process them any time. With new SSDs evolving every day, portable storage is taking its leap; allowing large file transportation operations to be a piece of cake.
SanDisk Extreme 500 Portable SSD
Price: 240GB: Rs. 12,490; 480GB: Rs. 22,990
Pros
Cons
A bit bulky
Inconsistent performance
Ratings (Out of 5)
Performance: 3.5
Value for Money: 3
Overall: 3
Samsung Portable SSD T1
Price: 250GB: Rs. 12,000; 500GB: Rs. 18,000; 1TB: Rs. 35,000
Pros
Great performance
Convenient to carry
Cons
Ratings (Out of 5)
Performance: 4.5
Value for Money: 4
Overall: 4