It's always a good idea to back up your computer. You may not trust your content to be stored in the cloud, so if you want a physical copy of your computer's files – not just something that's floating in the ether – you'll want to buy an external hard drive (HDD). An external hard drive is actually a hard drive that is outside of the computer case in its own enclosure. An external hard drive has three main purposes: to expand your computer's storage capacity, to back up your data, and to share data between computers. It's also easy to use. Most of the time, you just need to plug it into the computer and use it as an internal hard drive.
Currently most external hard drives support the Serial-ATA (SATA) interface and are slightly bigger than a hard drive itself. When purchasing an external hard drive you can buy a full external hard drive system that consists of both the hard drive and the enclosure, or you can purchase just the enclosure to hold your own hard drive. For professionals who spend the majority of their working lives creating digital media, backing up that work is essential. For home users, creating a second copy of sensitive items like bank records, tax records, family pictures, and music can ensure that precious memories and essential documents are not lost.
Portable external hard drives, connected to PCs or Macs, have become increasingly popular. More and more people are archiving huge amounts of data, sometimes gigabytes (GBs) at a time, to optimize their daily work routine. Hundreds of thousands of MP3s or graphics, or hundreds of DVD-size movies, may be stored on a single and very affordable 1-terabyte (TB) external hard drive.
Our Portable External Hard Drive Recommendations
Portable drives use laptop-size hard drives, which are a little slower than their internal siblings. The bonus is that they're completely transportable, and indeed many include special technologies that protect the hard drive if you drop it. Prices have come down here too, and you're now looking at spending under $80 for a 1TB drive and much less than double that for 2TB.
Here are our picks for some of the best external hard drives that come in two capacities, whether you're looking for a larger-than-life desktop drive or something a bit more modest for lugging around with your laptop. The capacities of the portable external hard drives listed below are either 1TB or 2TB. We have selected those two particular capacities because they are the most popular and budget-friendly among the other larger ones, and most users find them pretty sufficient for their backup needs.
Our standards on choosing these drives are simple—we just picked the top-rated ones on Amazon website and made sure they are the newest available brands out there, as "newest" is always supposed to incorporate the latest and most advanced technologies thus better off older models. Also, all these external hard drives will work with PCs out of the box. They should all work with Macs, too, but check that the manufacturer specifies Mac compatibility in its product blurb.
Finally, all the drives make use of the faster USB 3.0 standard as well as being backwards-compatible with USB 2.0. Therefore we can say confidently that the below-listed items feature the best USB 3.0 external hard drives in 1TB and 2TB capacities.
---
Note: The products prices are as of 24-September-2015 at 14:37 GMT - [tippy title="Details" header="off"]
Disclaimer
Products prices and availability are accurate as of the date/time indicated and are subject to change. Any price and availability information displayed on amazon.com as applicable at the time of purchase will apply to the purchase of this product.
[/tippy]
Best 1TB & 2TB Portable External Hard Drives
The 1TB external hard drive is the most common portable storage solution for the majority of users who don't have to backup lots of files/data externally. This capacity can be best suited for mainstream class users that include students and every lightweight user. It also comes in very reasonable price that fits almost all budgets.
As for the 2TB external hard drive, it's more relevant to those who neither consider themselves lightweight users nor heavyweight, just mediocre. They have a good number of movies, pictures, and huge video game and software application installation files (usually in ISO format). What decides them to go for this capacity limit is their estimation of needs. Therefore we advise you that to make a good calculation of what you currently need from an external hard drive and what you might need in the near future, gauge all that and make a good decision.
So, here we go with our best portable external hard drive list. As stated earlier, we only picked the 1TB and 2TB capacities.
Toshiba Canvio Connect II
View More Details
Toshiba's Canvio Connect II takes portable storage to the next level. With secure remote access, local and cloud backup and the ability to share and stream your content, the Toshiba Canvio Connect II is your all-in-one portable storage solution. Available in capacities of 500GB, 1TB, and 2TB, this amazingly full featured powerhouse will keep all your digital treasures safe and in one place – so you can upload, download and backup to and from your desktop or laptop, even from your mobile devices. Unlike other solutions, the Canvio Connect II makes it simple to back up not just files and folders, but your whole system-or customize your backups to your exact needs. Secure your backups with password protection. Or, store on the cloud for total assurance. Schedule automatic backups to run automatically and the Canvio Connect II will take care of the rest. Equipped with full system backup and recovery software, it's a complete solution right at your fingertips.
Basic Features
Backup and restore just files and folders or a full system backup for disk recovery. Cloud-enabled backup option available. Backups can be scheduled to run automatically. Secure backed up content with password-protected data encryption.
Access and share content from any device anywhere via the internet. Using the free download of PogoPlug PC software easily upload and download content from any device. Canvio Connect II is pocket-sized and easy to carry.
Easy to set up and use with a simple and intuitive user interface. One USB connection for set up and power. Equipped with broad compatibility to store and access files from PC and Mac without reformatting.
2-Year Limited Warranty
---
WD My Passport Ultra
View More Details
Secure and dependable, My Passport Ultra can be trusted to safeguard your private files. Set an optional password, that only you know, to activate 256-bit hardware encryption to add an extra layer of security. Combined with WD Backup, our most powerful backup software yet, it's easier than ever to have a backup plan that fits your life.
Basic Features
Features sequential read and write performance up to 550 megabytes per second (MB/s) and 470MB/s respectively, and random read and write input/output operations-per-second (IOPS) up to 100,000 and 90,000 each.
Secure portable storage
Optional 256-bit AES hardware encryption
Automatic local and cloud backup
Stylish design with a range of exciting colors
USB 3.0 connectivity
Formatted for Windows, reformatting required for Mac
3-Year Limited Warranty
---
Seagate Backup Plus Slim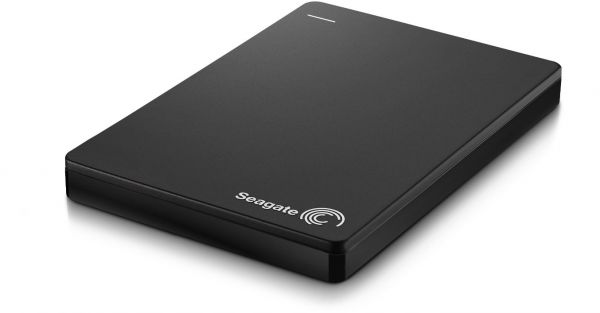 View More Details
The Backup Plus Slim Portable Drive is the simple, one-click way to protect and share your entire digital life. At 12.1millimeters thin for up to 4TB of capacity, it's ready to take with you and go. All your photos, movies, and videos can be backed up using the downloadable Seagate Dashboard software, including the ones you've shared on Facebook, Flickr, and YouTube. Run a one-click backup or schedule an automatic backup plan to protect your files on your Backup Plus Slim Portable Drive at your convenience.
Basic Features
200GB of free OneDrive cloud storage for 2 years is included when you register a new Backup Plus drive ($95US value)
After registering your drive on Seagate.com, a link will be provided to add 200GB to any new or existing OneDrive account
Only one offer can be redeemed per OneDrive account, offers must be activated by June 30, 2017 and may not be available in all countries
Create easy customized backup plans with included Seagate Dashboard software
Backup your mobile device photos and videos automatically with the Lyve App
Quick file transfer with USB 3.0 connectivity
USB powered -no power supply necessary
2-Year Limited Warranty
---
Silicon Power Rugged Armor A30
View More Details
Silicon Power (SP) Armor A30 simply provides the best all-around protection in an amazingly tough and durable enclosure. It offers military-grade shockproof protection by including a shock-resistant silica gel from the internal structure to the exterior which adds an extra shield to withstand shocks and crushes. SP Armor portable hard drive comes with SP exclusive, free Widget download software, providing 7 major back up and security tools and offers a 3 year manufacture warranty. For more information, please visit Silicon Power official website.
Basic Features
Shockproof – Drop protection meets US Military (MIL-STD-810G) Standards
SuperSpeed USB 3.0 – High transferring rate up to 5Gb/sec
Wrap-around Cable System – Brilliant USB 3.0 cable Storage Design
Works with PCs and Macs – Share data and files between different platforms
Recuva File Recovery – Undelete, Unerase, File and Disk Recovery
3-Year Limited Warranty
---
HGST Touro S High-Performance
View More Details
There's simply no time to waste when it comes to backing up and protecting your large photo and video files. Now with the ultra-portable Touro S – available in your choice of metallic colors – you can transport and back up your files on the go. Beam them to the cloud and access it all from your smartphone or web browser. With its stylish aluminum design, the speedy USB 3.0 and 7200RPM hard drive moves your files up to 23% faster than a standard 5400RPM drive. Touro S is USB bus-powered, so you never need a bulky, separate power adapter.
Basic Features
Stylish, ultra-portable aluminum enclosure in your choice of Ruby, Gold, Platinum or Silver
Transfer faster with featured USB 3.0 interface and 7200RPM hard drive, up to 23% faster than 5400RPM drives
Two levels of protection, with preloaded local back up software and 3GB of FREE cloud backup
Cloud backup allows access to your content anywhere, anytime
Upgrade to paid account and receive 250 GB of cloud storage for only $69.99/yr
iPhone and iPad mobile digital device apps available to access your cloud account
2-Year Limited Warranty
---
Portable External Hard Drive Or Cloud Backup?
With the advent of cloud storage, many people wonder if the external hard drive is on the way to becoming obsolete technology. In fact, the files kept in cloud storage are still maintained at a physical facility; the only difference is the size of the location in relation to an external hard drive. Online backups and cloud storage are all great, but sometimes you need to keep your files close and at least somewhat portable. That's where a good portable external hard drive comes in. You can restore a toasted computer from a local drive more quickly and with less hassle. But also consider this: You don't just use storage drives for backup. You use them to hold movies, music, working files, and other things that just make more sense to keep within reach. It's a pain to stream a movie you've stashed in the cloud when you could just load it from a USB drive sitting next to your computer. In fact, creating an additional backup of particularly important files onto a physical drive can make logical sense. If circumstances arise that make it difficult to to access the Internet, the most important files in cloud storage are available for retrieval from the external hard drive.
Portable vs Desktop-Style External Hard Drive
Before purchasing an external hard drive think about where you want to keep it. If your home will be its permanent residence for your external drive, going for a desktop external hard drive which weighs more but costs you less seems to have more sense. Desktop external hard drives are based on the 3.5-inch internal hard drives, and laptop (or portable) external hard drives are based on the 2.5-inch internal hard drives. So if you plan to tow your external hard drive back and forth from home to work, you may want to pay a little more for a pocket-sized device. If you plan to transport it often, another practical feature for your device is enhanced data protection, which will reduce the risk of failure caused by shock if you happen to drop it. A portable storage unit should also offer durability to protect your files from shock and damage. Avoid anything flimsy and look for drives featuring solid, durable materials like quality plastic or aluminum.
Desktop-style external hard drives, although also technically portable, require a power adapter and are designed to stay put. If you'd rather have something thin and light that you can simply plug into your computer without an external power source, this isn't the type of drive for you. Make sure to look for one with a built-in fan if you're going to be using it frequently and for heavy file transfers. A built-in fan will help extend the life of the HDD.