If there was one thing we wouldn't have predicted, it was the rush of computer enthusiasts lining up to be the first to have what amounts to be the smallest and most powerful consumer storage medium available. The popularity of mSATA SSDs is probably one of the more unexpected SSD trends to show its face and, even today, e-tailers just can't seem to keep mSATA SSDs in stock.
With consumers now wanting the performance best in their mSATA capable laptops, ultras hitting the market, as well as a few motherboards now being shipped with integrated mSATA ports, this trend doesn't seem to be letting up anytime soon.
Short Introduction To mSATA SSD World
Micro Serial-ATA (short mSATA) is, as its name indicates, a miniature form of the traditional SATA controller, which has been made to fit the smaller computing systems such as ultrabooks.
Until recently, the mSATA solid-state drive (SSD) was used for caching the primary storage subsystem, particularly the hard drive. For that reason they were coming in very small capacities, between 16 GB to 32 GB. But now, with the huge evolution in the SSD industry and the drastic decrease in the prices, higher capacities are available (up to 1TB) to be suitable for use as a primary storage media where the operating system and often-used applications are installed.
We'll try in this article to guide you through the world of mSATA solid state drive (SSD) and demonstrate things that will help you pick the best suited drive for your needs.
The Best mSATA Solid-State Drive (SSD) Brands
Unlike the official 2.5-inch form factor of an SSD, there are not many mSATA SSD brands available on the market, and this is supposed to facilitate your way to find the best one for you.
Luckily, almost all mSATA SSDs released by prominent SSD manufacturers like Samsung, Crucial, Mushkin and others were reviewed by IT professionals and those reviews were published on their websites with their final verdicts.
Mainly relying on those reviews and the reviews of customers on online retail shops such as Amazon, we have chosen what we deem the best mSATA SSD brands in the market of today and presented them in a list below.
A Quick Summary about our List
Here's a short summary about our best mSATA SSD selections in which we compare the prices and capacities of each of the listed drives in order to help you to acquire a quick overview about the available mSATA SSDs to purchase.
Note: The products prices are as of 25-Nov-2015 at 05:59 GMT - [tippy title="Details" header="off"]
Disclaimer
Products prices and availability are accurate as of the date/time indicated and are subject to change. Any price and availability information displayed on amazon.com as applicable at the time of purchase will apply to the purchase of this product.
[/tippy]
| Brand Name | Capacities | Prices |
| --- | --- | --- |
| 1. Samsung Electronics 850 EVO mSATA SSD | 120GB, 250GB, 500GB, 1TB | $69.00, $77.99, $147.99, $346.99 |
| 2. Crucial MX200 mSATA SSD | 250GB, 500GB | $94.99, $170.99 |
| 3. Plextor M6M Series mSATA SSD | 64GB, 128GB, 256GB, 512GB | $54.99, $100.17, $165.93, $307.00 |
| 4. Transcend MSA370 mSATA SSD | 64GB, 128GB, 256GB, 512GB | $39.99, $64.99, $99.99, $194.99 |
| 5. MyDigitalSSD BP4 Eco | 128GB, 256GB, 512GB | $54.99, $92.99, $179.99 |
| 6. Crucial M550 mSATA SSD | 256GB, 512GB | $169.99, $180.88 |
---
---
---
Samsung Electronics 850 EVO mSATA SSD
View More Details
The Samsung 850 EVO mSATA is pretty much identical to the 2.5 inch 850 EVO, which proved to be an impressive SSD by offering bar-setting performance and fantastic endurance coupled with a competitive price point. As such, the mSATA version of Samsung's newest SSD line features the same 3D V-NAND technology, enabling it to boast twice the endurance of a conventional 2D planar type NAND flash, and is designed to maximize everyday computing with an obvious focus on performance and reliability.
Manufacturer's Product Description:Enjoy a performance boost for your ultra-thin laptop or desktop PC with the Samsung 850 EVO mSATA SSD. With features like TurboWrite for increased write speeds and RAPID mode, which eliminates performance bottlenecks, the Samsung 850 EVO mSATA allows for exceptionally fast, efficient computing. Improve your PC's startup time, launch applications faster, and transfer files without the wait. This version of the 850 EVO mSATA is designed for ultra-thin laptops and desktop PCs that have an mSATA slot.
Basic Features
Highest-quality components and engineering from the #1 memory manufacturer
No moving parts means no hard drive spin ups, no noise and superior data protection
Worry-free data security with AES 256-bit full-disk encryption, Class 0 SED, Microsoft eDrive Support (Windows 8 only), and TCG Opal
Five-year limited warranty
---
Crucial MX200 mSATA SSD
View More Details
Manufacturer's Product Description:
More speed, capacity, and endurance. Get more out of your storage. Make your computer faster and more efficient with the Crucial MX200 SSD, which delivers the industry's best balance of performance, endurance, and efficiency. Leveraging leading specs on all fronts, along with new Dynamic Write Acceleration technology, the Crucial MX200 is loaded with innovative features and immediately increases your system's performance. With sequential reads up to 555 MB/s and an endurance rating that's up to 5 times greater than a typical client SSD, the Crucial MX200 is engineered to never let up.
Basic Features
Sequential reads/writes up to 555 / 500 MB/s on all file types
Random reads/writes up to 100k / 87k IOPS on all file types
Up to 5x more endurance and over 2x more energy efficient than a typical client SSD
Dynamic Write Acceleration delivers faster saves and file transfers
3-year limited warranty
---
Plextor M6M Series mSATA SSD
View More Details
Manufacturer's Product Description:
Building off the highly acclaimed M5M model, Plextor's newly released M6M Series SSDs looks to keep its place as one of the best mSATA SSDs on the market. Don't let its size fool you, a small upgrade makes a big difference in transforming your computer into a true powerhouse.
Basic Features
Best choice for mobile and everyday use with incredible performance, great versatility, and increased battery life that lets you do more, for longer.
Greatly increase your efficiency when working with audio, video, and multimedia content
Sequential Read Speed: 520 MB/s – Sequential Write Speed: 440 MB/S – Random Read Speed: 94,000 IOPS – Random Write Speed: 80,000 IOPS
3-year limited warranty
---
Transcend MSA370 mSATA SSD
View More Details
Manufacturer's Product Description:
Transcend's MSA370 SATA III 6Gb/s mSATA SSD combines incredibly fast transfer speeds, ultra compact size, light weight, shock and vibration resistance, and DevSleep support to ensure your notebook is faster, lighter, more reliable, and longer lasting.
Basic Features
MLC flash-based for peak performance and reliability
Features SATA III 6Gb/s interface & high speed DDR3 cache
Space-saving mSATA form factor is perfectly suited for ultra thin and light mobile devices
Full support of SATA Device Sleep Mode (Dev Sleep) maximizes notebook battery life when not in use
Supports Intel Smart Response Technology (ISRT)
Supports S.M.A.R.T., TRIM and NCQ commands
3-year limited warranty
---
MyDigitalSSD BP4 Eco
View More Details
Manufacturer's Product Description:
MyDigitalSSD Bullet Proof 4 Eco (BP4e) solid state drive (SSD) upgrades feature the PHISON S8 controller and Micron MLC Sync NAND Flash to super charge today's UltraBooks, Notebooks, ChromeBooks, Chromebox/NUC Mini PCs, and Desktop PCs.
Basic Features
Unequaled price to performance ratio
Micron MLC Sync NAND Flash
Space-saving mSATA form factor is perfectly suited for ultra thin and light mobile devices
TRIM, RAID, SMART, NCQ
Read up to 560MB/s ATTO / Write up to 520MB/s ATTO
2-year limited warranty
---
Crucial M550 mSATA SSD
View More Details
Manufacturer's Product Description:
A breakthrough in innovation, the Crucial M550 SSD is over 20 times faster than a typical hard drive* and consumes significantly less power. It enables your computer to boot up almost immediately, load files and programs almost instantly, accelerate demanding applications, and manage power so that your battery lasts up to 50 minutes longer. Backed by the most advanced feature set available – Native Write Acceleration, RAIN technology, Adaptive Thermal Protection, hardware-based encryption, and our exclusive data integrity algorithm – the Crucial M550 delivers a complete performance gain that's measured by far more than just specs.
Basic Features
Load files and programs almost instantly
Boot up almost immediately
550 MB/s sequential reads, 500 MB/s sequential writes, 95k random reads, 85k random writes
Download massive files in seconds rather than minutes
Manage power so your battery lasts longer
Compatible with PC and Mac systems
Encrypt and protect personal data against loss or theft
Three-year limited warranty
---
Why To Go For An mSATA Solid State Drive (SSD)?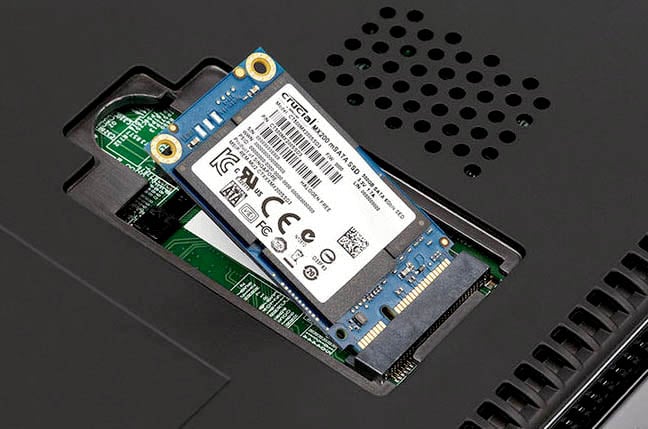 mSATA SSDs are mainly deployed in mobile devices such as tablets, laptops, and Ultrabooks because they allow for lighter and thinner designs. They are also used recently in the Next Unite of Computing (aka NUC) systems occupying a tiny space inside the box allowing these small systems to continue live for their purpose. Their high performance, small foot print, and low power consumption make them the perfect fit for these devices over standard 2.5″ HDDs.
If you have never heard of a solid state drive before, or an SSD, then you may be in for shock as to how much time you have wasted waiting on your computer's hard drive. To briefly explain, a solid state drive is a storage device that is found within your computer and will hold all of your data, including your operating system, pictures, videos and documents. The largest difference between your hard drive and a SSD is the fact that SSD's increase your system's speed immensely, never mind that they also come with a bunch of other features that make them far superior to that of a hard drive.
How To Use An mSATA SSD?
mSATA solid-state drives (SSD) can be used for three purposes: either as a main storage subsystem, where your operating system and favorite software applications are installed. This purpose has become very popular in the last two years, particularly after the emergence of much larger capacities that match the needs of the broad majority of mobile device users.
Or they can be employed as external storage solutions if used with their special drive enclosures such as this mSATA drive enclosure or this one. This will provide a practical, very small and cute-looking external storage device that will hold your data way better than traditional USB flash drives.
Or they can be used as hard drive caching if you need the huge capacity of traditional hard drive without having to sacrifice the speed that an SSD provides. This last option is preferred by many professional users who have limited budget but are smart enough to know how to invest righteously within their limited budget for the utmost of their benefit.
You may ask: How does a caching SSD work? The answer is that it works in conjunction with a hard drive disk (HDD) to create what the operating system sees as a single, combined storage partition. A caching SSD utilizes specialized software to determine what programs, data, and/or files that the user accesses most frequently. This "hot" data will be held in a dedicated "caching" partition on the SSD for much quicker access when called for. Less frequently requested data will still reside on the HDD, until such time as it becomes frequently accessed enough to be moved to the SSD cache. What is stored on the SSD cache is dynamic, and changes over time based on actual usage.
Caching SSDs are even becoming much more prevalent in large data centers and enterprise storage systems, as much quicker access to frequently utilized data and routines is particularly beneficial for such usage scenarios.
Boot-up routines are the first and foremost example of what will be immediately moved to the cache and stay there. Boot-up routines run each and every time you power on or reboot your computer. Boot-up time is one area where we expect to see a significant improvement by utilizing a caching SSD and software such as "ExpressCache" from ConduSiv Technologies.
What Capacity Do You Need
Before asking which mSATA SSD to go for, you need to determine the most relevant capacity that fits your needs in the presence and near future.
If it's to be used as your primary storage device, and you have no other option to add another storage device internally, then you need to consider obtaining a large capacity mSATA SSD if your budget allows it, unless you don't have many to do with your computer and you primarily upgrading to an SSD for its high speed and low power consumption, while your main computing tasks are light enough to not require large capacity, such as browsing websites, watching stream videos, playing light-weight games, pursuing your social media accounts, and so on. For that purpose a 128GB mSATA SSD is supposed to be sufficient.
A small capacity like 128GB also fits those who don't feel compelled to save their files on their computer, and always have their own external storage device to backup their files.
On the other hand, most enthusiasts and extreme gamers don't find in small capacity drives what they look for, and and additional storage solution doesn't meet their needs as well. This type of users need larger capacity that ranges between 512GB to 1TB.